Enza is tied naked fully spread vibrating dildo on her hairy dripping wet pussy
I wanted to see Enza tied fully spread and struggling against the ropes. I tied her on her back in my bedroom. Nicely secured to the be and her legs as apart as she could. It opened up her wet warm hairy pussy and she told me she could feel her pussy juice. I put i vibrating dildo on her hairy pussy making sure it reached her very sensitive clitoiris. She struggled but coulnd'n't get lose and the dildo gave her a long intense orgasm. Being tied by a stranger she had just met, and being tied naked in front of him - she told me - made her extremely horny.

This is the place if you want to see women 18+ naked and in nylons tied up in private
personal photos and video clips. The women are introduced to bondage and intense pleasure.
photos and video clips - 100% exclusive content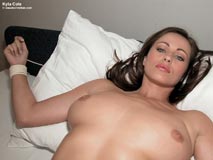 join - stay member and get access to Kyla Cole's exclusive content 900+ photos

join and see real girls tied and fucked
PRIVATE PHOTOS AND LONG PRIVATE BONDAGE VIDEOS - GIRLS TIED AND FUCKED AT HOME
please visit my two sites...
* * *
Emails from Members
Claude I have to tell you that you've out done yourself with all of the latest material you've added to your site.  It is HOT!!!!!  I love the narration that you give about each of the pictures, you defiantly have a way with words. Love, a Female fan!
*
Dear Claude, - I really like your both sites! Your girls are beautiful! I'm a very satisfied member ;-)
*
Claude - Your pictures are the best on the internet!