Simony Diamant gets tied, has her pantyhose cut open - gets licked to orgasm by a stranger
I knew Simony needed to orgasm. I had her lay on her back, tied her legs separated, her arms where already tied above her head, secured to the bedpost. Her panties where ripped open, but I took a scissors and cut them fully open. I wanted to see her naked body all the way from her inner thighs and pussy to her face. She lay there, moving her body, separating her legs for me. Her nipples where rock hard and I know they are very sensitive. This girl is extremely beautiful, with a lovely face and s nice smile, and a perfect body! Her pussy is very beautiful and at this time she was more that wet, dripping wet! She said - please Claude, make me cum.... I'm so fucking horny... please please lick my pussy... please please I want to be tied licked and fucked again and again.... I want to be your sex slave... I'm a horny bitch... As she was saying this she desperately spread her legs as much as she could and I saw that she was flowing! I kissed her, kissed her nipples and suck on then and she moaned. I then lay between her legs, kissed her inner thighs.... so soft skin... then kissed her wet pussy several times... then started licking her, sucking her pussy, fucking her with my tongue. At the same time I pinched hard on her nipples, and then grabbed under her ass and pushed her pussy against my mouth and licked her intensively until she was screaming and finally reached and intense orgasm! I knew this girl now was longing to be tied, used and have to give me a blow job and have to swallow...

This is the place if you want to see women 18+ naked and in nylons tied up in private
personal photos and video clips. The women are introduced to bondage and intense pleasure.
photos and video clips - 100% exclusive content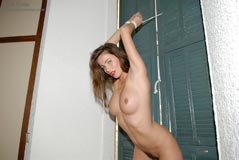 join - stay member and get access to Kyla Cole's exclusive content 900+ photos

join and see real girls tied and fucked
PRIVATE PHOTOS AND LONG PRIVATE BONDAGE VIDEOS - GIRLS TIED AND FUCKED AT HOME
please visit my two sites...
* * *
Emails from Members
Claude I have to tell you that you've out done yourself with all of the latest material you've added to your site.  It is HOT!!!!!  I love the narration that you give about each of the pictures, you defiantly have a way with words. Love, a Female fan!
*
Dear Claude, - I really like your both sites! Your girls are beautiful! I'm a very satisfied member ;-)
*
Claude - Your pictures are the best on the internet!