Dominica cuffed gets manhandled by stranger
This is from our first session. Dominica is at my place one afternoon. She told me to use her, that she wanted to be submissive and obey. I had her dress in exclusive black pantyhose. A super tight shaping exclusive tube dress, and high heels. No bra, no panties. I blindfolded her, had her cuffed arms and legs. Had her standing and waiting. Standing behind her I slowly started caressing her body. Slowly caressed her neck and back. And then all over her body, her nipples through the fabric. Her body shivered. I then exposed her breasts and her ass. The nylons looked lovely. I had the dress off, used oil on her body, all over, her tits, on her nylons, inside the nylons on her ass and pussy. Then had the nylons come down and fingered her ass pushing a finger deep inside, at the same time fingering her clitoris and finger fucking her pussy. Her body was shivering, I held her hard, pushed her body against mine. Fingered her clitoris and manhandling her breasts hard. She was now horny as hell. Breathing heavily, moaning. She needed more!
*
This is the place if you want to see women 18+ naked and in nylons tied up in private
personal photos and video clips.
The women are introduced to bondage and intense pleasure.
Tied and reaching intense orgasms.
photos and video clips - 100% exclusive content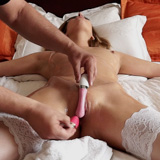 PRIVATE PHOTOS AND LONG PRIVATE BONDAGE VIDEOS
please visit my two sites...

women naked and in nylons - tied and fucked

women naked and in nylons
Emails from Members
Your photos and videos have an erotic feel. I love the quality and the way you have edited blended the videos and the shoots. The cute girls and mature women are beautiful and natural, qualities that I look for. I find today's porn extremely boring, long and fake. Your films are like art not porn. Calling it porn would be a disgrace. We both like to see the women aroused and them wondering what's going to happen next. They all enjoy and want to experience every touch and every sensation they can in a way that they know they are safe but out of their control. Hot! First one I saw you named, "Tied girl with dripping wet pussy oily body hard". really caught my interest. I tried that on my wife the next night and she loved it. Then I showed her your film and she thought it was hot. She loved the vibrator on her nipples. Then she said, He's never going to get that oil out of the sheets!!! LOL. We really like that kind of erotica. Looking forward to viewing more. thanks Claude keep it up. - A fan couple
*
Claude I have to tell you that you've out done yourself with all of the latest material you've added to your site.  It is HOT!!!!!  I love the narration that you give about each of the pictures, you defiantly have a way with words. Love, a Female fan!
*
Dear Claude, - I really like your both sites! Your girls are beautiful! I'm a very satisfied member ;-)
*
Claude - Your pictures are the best on the internet!