Mona Lee in garter belt and stockings tied
Mona wanted to be tied. I had her in my bathroom, in a garter belt and stockings, and high heels. She was so horny. Her pussy was flowing pussy juice. She wanted me to to touch her breasts, to pinch her nipples. To slap her ass and to finger her wet warm pussy. I had her tied, arms beihind her vack, legs tied together. II man handle her good.

This is the place if you want to see women 18+ naked and in nylons tied up in private
personal photos and video clips. The women are introduced to bondage and intense pleasure.
photos and video clips - 100% exclusive content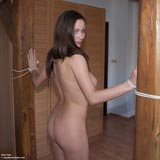 join - stay member and get access to Kyla Cole's exclusive content 900+ photos

join and see real girls tied and fucked
PRIVATE PHOTOS AND LONG PRIVATE BONDAGE VIDEOS - GIRLS TIED AND FUCKED AT HOME
please visit my two sites...
* * *
Emails from Members
Claude I have to tell you that you've out done yourself with all of the latest material you've added to your site.  It is HOT!!!!!  I love the narration that you give about each of the pictures, you defiantly have a way with words. Love, a Female fan!
*
Dear Claude, - I really like your both sites! Your girls are beautiful! I'm a very satisfied member ;-)
*
Claude - Your pictures are the best on the internet!