Eufrat
Here I have Eufrat all naked in my bed. She came over and immediately, without I had to tell her to, she undressed. I told her to lie on her stomach on a pillow in my bed, so her ass comes up. I then started tying her arms to the bed, then her legs nicely stretched fully apart. As she lays there tied up I notice she tries to spread her legs even more, and pushes her ass up.
This is the place if you want to see women 18+ naked and in nylons tied up in private
personal photos and video clips. The women are introduced to bondage and intense pleasure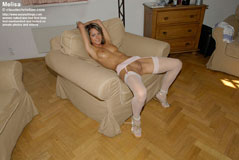 photos and video clips - 100% exclusive content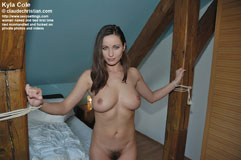 join and get access to Kyla Cole's exclusive content

join and see real girls tied and fucked
PRIVATE PHOTOS AND LONG PRIVATE BONDAGE VIDEOS - GIRLS TIED AND FUCKED AT HOME
video formats



supported
videos streaming and in zip files - QuickTime and new vids in mp4 both for Mac and Windows users - new videos also in ios format
please visit my two sites...
* * *
Emails from Members
Claude I have to tell you that you've out done yourself with all of the latest material you've added to your site.  It is HOT!!!!!  I love the narration that you give about each of the pictures, you defiantly have a way with words. Love, a Female fan!
*
Dear Claude, - I really like your both sites! Your girls are beautiful! I'm a very satisfied member ;-)
*
Claude - Your pictures are the best on the internet!