LIly Labeau tied gets fucked
Lily was on her back, arms cuffed, legs tied spread. She has just been licked to orgasm, her pussy is dripping wet. She loves being used, she wants more. Using a dildo I tease her pussy, her clitoris, she moans with pleasure, she' horny as hell now. I fuck her, her pussy is wet tight and warm. I use the dildo at the same time on her clitoris. She has several orgasms. I then lick her, she's horny horny horny. Then I have her suck my dick, she loves it. Sucks and sucks and licks and keep my dick in her mouth when I shoot my load filling her mouth... she swallows.
This is the place if you want to see women 18+ naked and in nylons tied up in private
personal photos and video clips. The women are introduced to bondage and intense pleasure.

photos and video clips - 100% exclusive content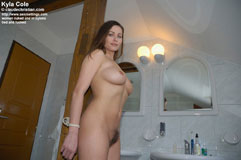 join and get access to Kyla Cole's exclusive content

join and see real girls tied and fucked
PRIVATE PHOTOS AND LONG PRIVATE BONDAGE VIDEOS - GIRLS TIED AND FUCKED AT HOME
video formats



supported
videos streaming and in zip files - QuickTime and new vids in mp4 both for Mac and Windows users - new videos also in ios format
please visit my two sites...
* * *
Emails from Members
Claude I have to tell you that you've out done yourself with all of the latest material you've added to your site.  It is HOT!!!!!  I love the narration that you give about each of the pictures, you defiantly have a way with words. Love, a Female fan!
*
Dear Claude, - I really like your both sites! Your girls are beautiful! I'm a very satisfied member ;-)
*
Claude - Your pictures are the best on the internet!